Hot and cold
Posted by Ciaran Tobin on 9 December 2018
WICKLOW WAY ULTRA 50 MILES
Robert Farrell and Graham Macken took to the hills on Saturday morning for the punishing Wicklow Way Ultra.
The alarm clock has to be set very early as the runners set out from the wilds in darkness and finish in darkness.
The 50 mile run through the heart of the Wicklow Mountains is a severe challenge at anytime of the year but it takes a cocktail of courage, endurance and wackiness to get stuck into such a challenge in December. The two boys reported it to have been extremely tough and they had to summon up special reserves of determination to see it through. Weather conditions added to the test. Anyhow they saw it to the finish, collected the unique finishers momento and rehydrated with a pint of plain.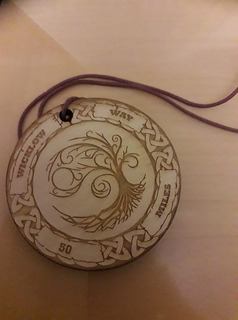 ROBERTS SUMMARY
RAW 50miler what can I say what an epic event from start to finish. Brutal weather conditions, we had everything from rain, extreme wind ( battered all over the gaff on Djouce ) dry and more rain n wind . And do you know what I bloody loved it. Worse the weather more of a challenge. It was my 1st 50mile race so I didn't no what way the body would react in the hills but I flew through it. Mentally and physically just got on with it. Pleasure to run with Graham Macken and finish with Brian Rodgers who came up behind me last 100 yards and we sprint finished. Met so many warriors up there from the 50 to the 100. Yez are all legends. RAW ULTRA one word EPIC!!!!! Oh and the final 3ish mile decent into Dublin the view was worth all the pain, spectacular in the darkness. Thanks Don Hannon and crew for looking after us so well. I'll certainly be back. Finished in 11:09 well under my target time. Not a bad debut 
Grahams Summary
RAW 50mile/80km mountain marathon done.....just! Legs didn't play ball today from the start,packed in at 15km, a long way from home. Meant an awkward shuffle for the rest of the race.
Incredible race with amazing athletes.
That's the last race of a long and hectic year! 
Lanzarote Marathon 
Both Andrew Revinton and Michael Counsel took part in their second Lanzarote Marathon on Saturday. The nature of the terrain and often peculiar weather conditions in Lanzarote can make this race a bit of a lottery regarding race performance. The event also stages a 10km and half marathon making it a very attractive end of year competition for club athletes throughout Europe looking for a late season target.
Our two representatives were happy with their performances. Andrew Revington finished 80th out of 600 runners in 3h31. He was happy to improve on his recent DCM.   Michael Counsel brought a sizeable support crew with him and will probably now have the necessary excuse to "let his hair down" after running 3h44. (They even looked ready to go rockin around the Christmas tree pre event.)