Juvenile
Trim AC have been running, jumping and throwing in the Trim area since 1972. We are 42 years old this year and fitter than ever. We encourage participation in running and athletics in a supportive environment. From short sprints through to middle distance our juvenile members are constantly pushing themselves and each other to achieve goals they never previously thought possible.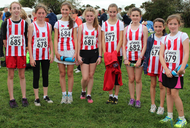 With regular training, competitions and social events, Trim AC offers our members a great social life in a fun and safe environment with experienced coaches.
2015 juvenile training will return on Monday 5th Janaury with the following revised start times; younger group from 6pm-7pm, the older group from 6.30pm - 7.30pm in the Boyne Community School. If you have a child who would like to join, please Contact 086 0569512 or trimathleticclub@hotmail.com.
Alternatively, call to one of our Monday night training sessions and talk to one of our Child officers. Details of our Child officers can be found in the Information for Parents section.