Juvenile
Notice for our juvenile section.
Please note we are at full capacity for younger age groups. We can only accept registrations for children born 2010 or older. No walk ins accepted due to high volumes attending. Capacity is limited by space and numbers volunteering to coach and help out at training.
Trim AC have been running, jumping and throwing in the Trim area since 1972. We encourage participation in Track & Field Athletics and Cross Country for our juveniles in a supportive environment.
From short sprints, hurdles. jumps and throws through to middle distance our juvenile members are constantly pushing themselves and each other to achieve goals they never previously thought possible. All juvenile members are expected to paricipate in competitions and represent the club. Parents are also expected to help out.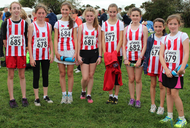 With regular training, competitions and social events, Trim AC offers our members a great social life in a fun and safe environment with experienced coaches.
Details of our Child officers can be found in the Information for Parents section.